TRADE SHOW TABLE TOP BOOTH DISPLAY LIGHTING
POP UP TABLE TOP & FLOOR STAND MODEL VENDOR BOOTH DISPLAY LIGHT EXTENDS TO 7.5FT.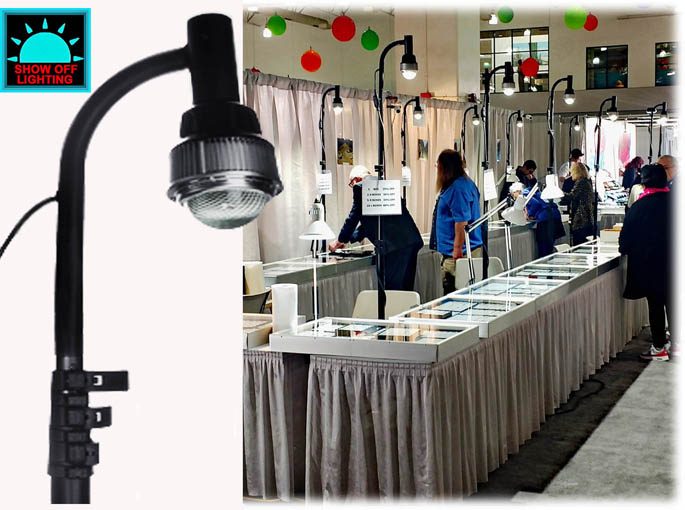 FREE FEDEX SHIPPING IN THE CONTINENTAL UNITED STATES
A Convention Trade Show Table Booth LED lighting system that is both portable and powerful while rendering natural white, professional looking lighting. Trade show booths and trade show vendors will love this bright, beautiful, easy to setup Pop Up LED Light system. The Show Off Lighting Pop Up LED Light comes with a durable, telescopic (extends to 7.5ft.), black, anodized aluminum pole and uses a high power, high quality, 60W, 4000K, 7400 Lumens COB LED bulb. We offer a table top LED Pop Up display light with a durable, expandable clamp and a floor stand model as well. Our Show Off Lighting table top Pop Up lights are perfect for bead display, jewelry display, gun show display lighting, coin show display lighting or for any trade show event.
The genesis for Show Off Lighting may have come from the convention booth and trade show booth venues but the applications for this patent pending affordable lighting system are endless. It does not matter if you are seeking to modernize your convention lighting, trade show booth lighting, art show lighting, car show lighting, trade show services lighting, outdoor trade show lighting, gallery lighting or showroom lighting. Replace your track lighting, flood lights, heat generating halogen based lighting system, and improve the appearance of your merchandise and booth with this new to market 21st century lighting system.

Technical Specifications:
60 Watt LED COB Bulb - Table or floor mountings available - Almost NO HEAT Generation - BRIGHT 7400 Lumens, Neutral White Light
85 CRI for vibrant natural colors - All Aluminum Construction Anodized Black - No external transformer, standard power cord
Rock solid stability - Setup in 1 minute or less - Over engineered for durability - 60 degree beam angle - Lights are 7.5ft. when fully extended
Ideal for trade show booth table displays. One of our table top lights will light up an 8ft table with light to spare. If you put your trade show tables side by side, one light will light them both ( as seen in the first picture). This 60W trade show LED table display case light is equal to the 150W Totalite or a 200W Halogen Pop Up light and there are NO HEAVY TRANSFORMERS to carry around. Each of our Pop Up table display lights and Pop Up floor stand display lights is covered under a (2) year warranty including the bulb and both models extend to 7.5ft. for amazing light.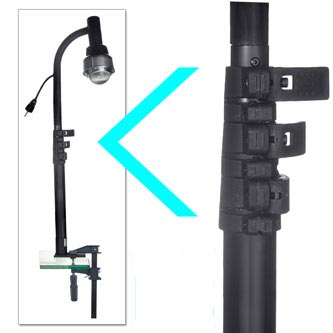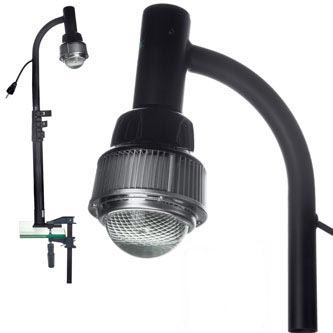 QUICK SETUP VIDEOS FOR OUR TRADE SHOW BOOTH LIGHTS
Show Off Lighting is a unique solution to an age old problem in the Jewelry, Art, and Trade Show Services industries. Ditch the sagging, old track lighting and zip ties! Discover a clean cut, professional Booth Lighting experience! Our portable, high powered LED Pop Up light is fully adjustable and durable! Assembles quickly, easily and conveniently! Our Trade Show Booth Lighting is designed by a vendor, for vendors! Our sturdy telescopic anodized aluminum pole makes for easy transport and storage. These professional display lights are powerful, affordable, low heat, do not require a transformer like the Totalite, will save you money on your trade show booth electrical bills and are the best Pop Up trade show lighting system on the market today.
WHY LED LIGHTS WINS OVER METAL HALIDE AND HALOGEN
If you are thinking about new lighting for your trade show vendor booth this could be the solution you have been searching for. Why suffer through extremely hot halogen & metal halide lights that usually trip breakers, drive your electrical bills sky high and are twice the cost of the Show Off Lighting LED trade show booth lighting products? LED lighting produces a higher quality light than metal halide or halogen. Most of the energy from the LED bulb is spent making beautiful display lighting and very little energy is spent making heat. With metal halide and holgen you get a poor quality light because most of the energy from the bulb is spent making heat and very little energy is left for light. Show Off Lighting LED lights are Las Vegas approved and will make your vendor booth merchandise, jewelry or bead display look amazing.